---
October 12th, 2018 by Krysia Williams
The sun is shining, the leaves are turning, and we're gearing up to celebrate 10 years of The Bristol Bike Project!
We've come such a long way since the early days, when we were spannering from an old horse stable on the outskirts of Bristol and a back garden in Montpelier. The mound of donated bikes grew as quickly as the number of people knocking on our doors and before we knew it we were settling into the vibrant workshop in Hamilton House which we still call home today.
The Project started with the aim of offering an affordable and sustainable mode of transport to refugees and asylum-seekers. But from our roots this project has always been about more than just giving away bicycles. We promote sustainability and empower our community by providing an inclusive and supportive space for people from all walks of life. Since we started we've re-homed nearly 2,000 bicycles with people who couldn't otherwise afford one, and welcome hundreds of people through our doors each month whether it's to volunteer, learn mechanics, or just come and have a cuppa!
We're also proud to be a co-op led by over 170 members, putting our community at the heart of decision-making and helping our city grow by working with other like-minded organisations such as Bristol Refugee Rights, Unseen, Bristol Drugs Project, and The Big Issue.
Looking back at the past 10 years, we're immensely proud of everything we've achieved and we think all this deserves a bit of celebration! So come hear our story and soak up the spirit of 10-year-old BBP at our week-long exhibition from 8 – 14 November, and be sure to join us for our 10th Birthday Bash on the opening night!
---
October 12th, 2018 by Krysia Williams
Take part in our competition to design your own Bristol Bike Project tee and you could be in with a chance of winning some top prizes as well as featuring your artwork on cycling chests across Bristol!
All profits made from the sale of the t-shirts will go back to support the community work we do here at The Bristol Bike Project.
So how does it work?
Who can take part? Anyone and everyone! We're not a fan of exclusivity here at BBP.
The design. As it's the 10th birthday special, the theme this year will be 'celebrating 10 years of BBP'! Interpret how you will, and use your imagination! The design must be able to be printed clearly onto A3, must be monochrome, and must be simple/printable shapes/lines (vectorised, or able to be vectorised).
How to submit. Please e-mail hello@thebristolbikeproject.org with your name, contact details and design.
Deadline. Midnight on Thursday 1 November.
What could you win. Your design on the illustrious BBP tees, and some other fantabulous prizes (watch this space for details!
The draw. We'll be announcing the lucky winner at the BBP 10th Birthday Bash on Thursday 8 November!
Happy drawing folks!
The Bristol Bike Project team
And just to get your creative juices flowing, here's some BBP-ers showing off a couple of our previous winners 🙂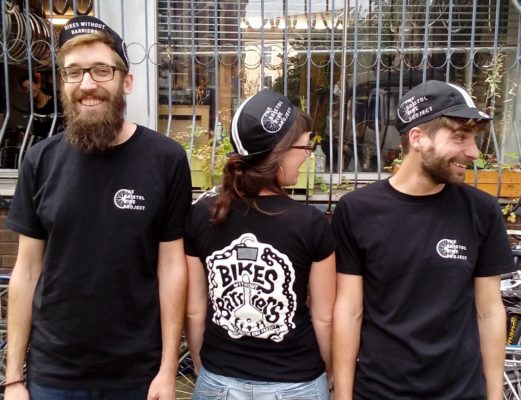 ---
October 4th, 2018 by Krysia Williams
Hi. Sarah Strong here. Some of you reading this may have made it to BBP on Thursday 13th September to the #bikesandbrains talk. If you did, I hope you enjoyed it and found it a useful evening too.
The Bikes and Brains blog, and the evenings that I arrange with cycling venues are spaces where we can talk/share/listen/read* (*delete as appropriate) about cycling and mental health – or riding and wellbeing in general.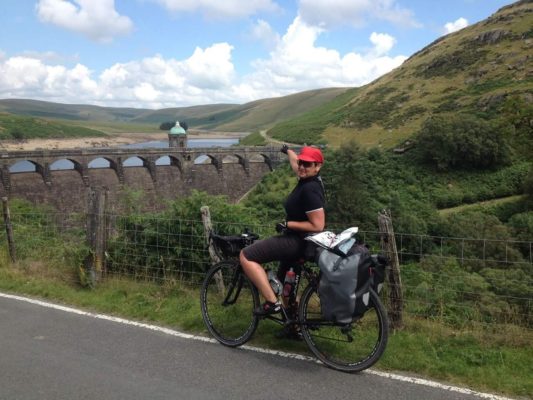 Over the past fifteen years or so that I've been involved with cycling I've detected, what seems to me, a large overlap of 'people who cycle' and people who experience mental health issues' – this got me thinking about how cycling might be particularly beneficial to health but also, sometimes, how our riding can be affected by low mood, anxiety, and so on.
Cycling is awesome, bikes are awesome, but cycling isn't the one thing that will cure you, even if it feels sometimes as if it does. There is no casual link between cycling and better mental health – there are so many different factors interacting; physical exercise, social interaction or solitude, headspace, to learning new skills.
I have a bit of a pet hate for overly motivational posters, even though I understand the sentiment. I found that as my relationship with cycling developed and changed I was more conscious of how my personal challenges with anxiety impacted my riding. Generally-speaking I think this can depend on the type of cycling you do, and what you gain from it. I suspect that difficulties arise as you push yourself further. I found anxiety affected my racing and had to do a bit of soul-searching to identify what I wanted from the bike.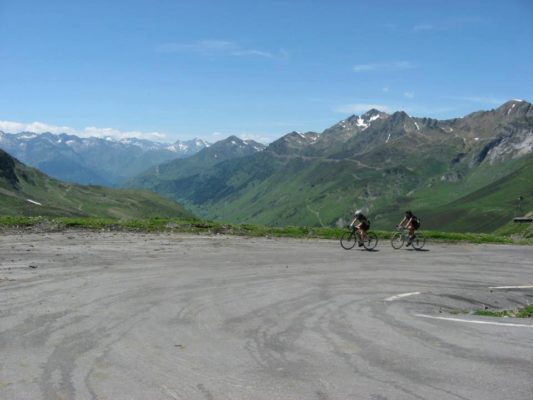 Eleanor Jaskowska is an audaxer and ultra-distance rider. She spoke very eloquently during the evening on some of the issues she found herself coming up against during the TransContinental Race in 2017. I'd hazard that for a significant number of participants the challenge is equally mental as well as physical. How do you keep going when you're exhausted? How do you figure out how to push through and keep going? Can you convince yourself that you can do it, regardless of the difficulties you face? Also, about learning as you go along – when and how much to eat, how to pace yourself. Most importantly perhaps, how do you process pulling out of a race? How can you reframe goals and achievements, and avoid looking on an uncompleted event as a 'failure'.
Ian Walker is a researcher in environmental psychology at the University of Bath and outside of his work he is an ultra-distance racer, having undertaken the TransContinental and recently won the North Cape 4000 across Europe. He spoke of bringing some of the advice he was given during running races into his cycling – about just putting one foot in front of the other, of breaking the challenge up into more manageable sections, also of the apparent absurdity of it all – the What-Am-I-Doing-ness of it all.
Underlying both contributions was the sense of having to keep moving forward. How stopping can mean thinking, and thinking can impact your focus. Your head can get in the way. Sometimes it's easier just to do and feel rather than to think (which can lead to over-thinking, which can lead to anxiety, which can affect decision-making).
These factors are not just apparent in extreme events, however, and can be evident in an action as supposedly straightforward as walking out of the front door to bike to the shops. In fact, getting through the front door can be one of the hardest first steps! Issues such as anxiety and low mood can be very isolating in various ways. Things can seem conspire against you; if you are experiencing low motivation, lack of energy, and feelings of being overwhelmed it can be even more of a trial to try and socialise with others. It's easy to isolate yourself further – and then it can be increasingly difficult to backpedal. (I know, I had to get *one* dodgy cycling-related pun in there somewhere!).
The final speaker at the Bikes and Brains evening was Chris Taylor, BBP's own coordinator of The Social Cycle. This is a brilliant initiative to reduce social isolation. Folks come together once a week to work on bikes, learn, chat, have a cup of tea. A simple idea which can mean so much. Having an inclusive space where people can go and not feel that they are judged is a space where recovery can where confidence can be built, and change can happen.
For me, Chris's talk underlined how the benefits of cycling aren't just about the riding. It's not necessarily about banging out the miles, or even getting from A to B. Sometimes it's about working on the bike itself and the satisfaction of chatting with people who have a similar passion. I think that when it comes down to it, we're back to the uncomplicated truth that Talking About Things is much better than Not Talking About Things. A bike can be a huge enabler for this – whether it be riding or fettling. The Social Cycle is a wonderful catalyst for just such a process, and the chance for positive change.
My thanks to Krysia and the gang at Bristol Bike Project for hosting a Bikes and Brains evening and, of course, to Ian, Eleanor, and Chris for offering their thoughts, experiences, and reflections.
---
September 5th, 2018 by Krysia Williams
In September 2017, BBP volunteer Susannah O'Sullivan set off to cycle 6000km from Bristol to Palestine, where she ended up living for 6 months working as a solidarity activist supporting resistance against the occupation. There Susannah witnessed more injustice and violence than she could have imagined, but she also fell in love with Palestine. Along the way Susannah passed through 15 countries, wild camping along the way and sleeping by rivers, on empty beaches, in farm outhouses and once in a cave. Last month, Susannah hosted a talk at the Project where she told her story of resisting the occupation in Palestine. Here, she writes for us on her bike travels and how volunteering at BBP helped her to prepare.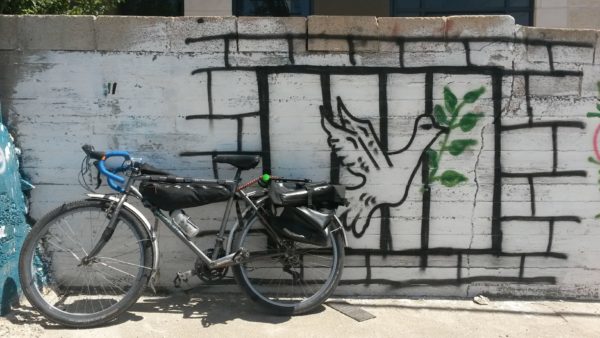 Early last year I decided to cycle to Palestine. I wanted to cross continents and plunge myself into difficult situations. I wanted to push myself to the limit and see how far I could go. Eager for adventure, I set about preparing. I started volunteering at The Bristol Bike Project fixing old bikes for their Earn-A-Bike scheme, that teaches maintenance skills to refugees who then receive their own bicycle. I was already working with refugees in Bristol, and this gave me an opportunity to work on my mechanical skills and help in the community at the same time. I learned how to strip old bikes and rebuild them, which I then put to use building my own bike for my trip. I ended up wobbling down my lane in Bristol in September 2017, weighed down with all my gear for a cold autumn ahead.
In the early days of the trip I struggled cycling with that much weight, and questioned what I was doing, but by the time I was in Switzerland I was stronger and enjoying the peace and solitude of quiet roads and deserted forests. Mostly I camped in the wild but sometimes it wasn't possible and I asked farmers to camp on their land. In Croatia a farmer let me pitch my tent in her outhouse and phoned her English-speaking daughter in Canada to ask if I wanted milk and sugar in my coffee. A farmer in Bavaria put me in their spare room and fed me breakfast with fresh bread rolls from the bakery he also worked in. A Greek farmer let me pitch by his chickens, then went out to buy me a chip and tzatziki sandwich and chocolate.
I revelled in these moments of warmth and human kindness as much as I did the moments of calm I felt when I was alone in nature. I felt that my bicycle broke down people's natural defences about strangers and made people open and curious about my trip. I learned to ignore the fears of doubters, and trust in the kindness of strangers, on which every long distance cyclist must sometimes rely. This was probably the best possible preparation for my time in Palestine, which pushed me to a different kind of limit.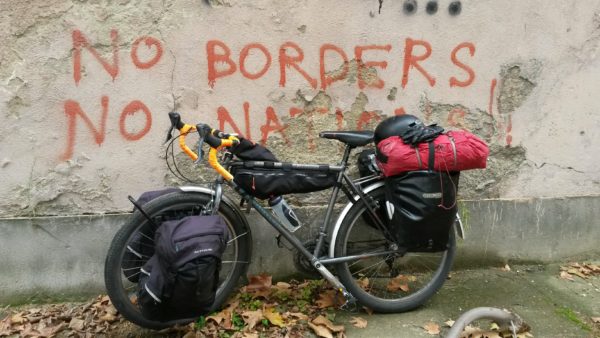 ---
September 3rd, 2018 by Krysia Williams
Earlier this year two awesome adventurers Zoe and Tim went on an epic cycle ride, following the refugee trail for 2,158 miles, over 70 days, through 12 countries and raising a whopping £669 for our Earn-a-Bike programmes. It's a huge THANK YOU to Zoe and Tim from everyone at The Bristol Bike Project for supporting us in style… 🙂
Now they are back home and settling into Bristol life, Zoe wrote one final blog for us about their experience of the Hungarian border where the realities of the ongoing refugee crisis really hit home…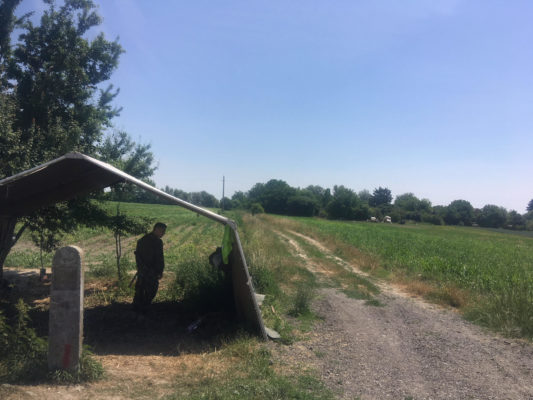 It's been over a month since we got home from our trip and it's mad how quickly it's all become a distant memory. When people ask for the highlights the first thing that always comes to mind is how lovely people were to us all along the way – friendly waves from villagers, warm welcoming hosts, encouragement from travellers, friendly beeps and waves from drivers and even a joke and a smile from the border guards. And this always reminds us how one day of our travels really made us think.
Along Hungary's border with Serbia and Croatia, Hungarian soldiers watched the borderland fields searching for people trying to cross. The borders are closed to refugees so the only route is through the heavily fortified nomans land. It was very sobering, especially when the soldiers holding their huge guns gave us cheery waves. We couldn't help but think how different their reception would be under other circumstances. This really highlighted how the refugee crisis is ongoing (even if it isn't in the news every day), the lengths some people go to for the safety of their families and how terrifying it would be to come across those border guards under different circumstances.
Looking back I also still can't believe how far you can go on a bike! The last day of August was the last day our fundraising page is open for donations, but if you'd still like to donate and read about the wonderful work The Bristol Bike Project do with refugees and other marginalised people in our community, please visit their supporters page at https://localgiving.org/charity/thebristolbikeproject/
---
August 31st, 2018 by Krysia Williams
The Bike to Bestival cycle ride raised a whopping £16k for The Bristol Bike Project and mental health charity CALM this summer, with £3,604 going directly to The Bristol Bike Project. There's no doubt that donors and fundraisers are more motivated to support a cause when they can see the positive impact of their donations, so the Bristol participants began their race directly from the bike workshop in Stokes Croft to allow them to see first-hand the benefit of their fundraising.
Before the ride began, the 18 cyclists were given bike inspections by volunteers at The Bristol Bike Project to make sure their equipment was up to task. A mix of volunteers, marshals, pro-cyclists, average commuters, a camera crew and a support vehicle rolled out on the gruelling 100m cycle ride at 12pm on Wednesday, fuelled by locally produced coffee and breakfast from nearby Door & Rivet.
It was this mix of abilities and personalities that made the Bristol cycle ride a friendly and community-minded event. This team alone comprised of a postman, an engineer, a group of swing dancers and tyre salesman, riding side by side. The 'everyone welcome' ethos of The Bristol Bike Project infiltrated the ride, with much encouragement and laughter among the cyclists regardless of ability. Several of the riders were nervous about an extended distance on open roads, so each marshal was allocated a small group of cyclists to fully chaperone at all times. Every marshal was an experienced bike mechanic, ensuring that a safe pair of hands was always available during mechanical faults.
The first day saw the team wind through 50 miles of hilly B roads of Bristol, Wells, and Frome before finally coming to rest at the peaceful and remote Kingsettle campsite. Here they enjoyed a friendly communal dinner and well-earned £2.50 pints of ale in the local pub.
A safe and incident-free first day boosted the confidence of all of the riders, which meant the second day of the bike ride was all about enjoying the scenery. The carefully-planned, 40 mile route took cyclists through the National Trust gardens of Stourhead, past King Alfred's Tower, before rolling past Durdle Door and down towards the shimmering Lulworth Cove for a cooling dip in the sea and a well-deserved ice cream.
The final leg of their trip took them to the gates of Bestival, where they received a medal, a free ticket, a luxury shower wristband, secure bike storage and access to VIP camping. After such a gruelling but good-natured journey together, the majority of the team opted to spend the festival together, culminating in an authentic, camp stove-cooked Italian meal prepared for the entire team by one of the riders.
Many of the riders reunited at The Bristol Bike Project's annual BBQ last weekend, and in the true community spirit of the organisation some of the participants have since become involved in a skills swap, trading cycling advice for indoor climbing and swing dancing tips.
If you'd like to take part in next year's Bike to Bestival, look out for updates on The Bristol Bike Project and Bestival Facebook pages from May 2019 to register for your place.
[vimeo clip_id="288355544" width="600" height="338" align="left"]
---
August 16th, 2018 by Krysia Williams
The Southmead Project is arranging a 50 mile cycle challenge in order to raise awareness of the work being carried out by Southmead Project and to raise valuable funds for the charity.
The Southmead Project is a charity that supports adults who have been affected by sexual, physical or emotional abuse during childhood or later in life. As well as supporting individuals, the project is also working towards raising awareness of the impact of abuse and the cost this has both to individual and society at large.
We are based in Southmead Bristol, the service is available to anyone in the Bristol or surrounding areas.
The Southmead project offers both group support and one to one counselling where professional counsellors will listen and explore ways of helping people to reclaim lives affected by trauma and abuse. Counselling is offered based on need and is a very effective way of aiding recovery from trauma brought on by child abuse. Alongside the important work that is carried out directly with clients, the project also runs events to raise awareness of the impact abuse has on people's lives. One such event is the wall of silence, an exhibition launched at Colston Hall in Bristol and shown at venues across the country, including City Hall London and Avon and Somerset Police HQ. This exhibition not only raises awareness of the impact and suffering abuse causes, it also serves to offer hope to others whose lives have been impacted by abuse, showing them there is hoping to reclaim their lives.
Currently the demand for the service is higher than the charities' capacity to meet the needs within the city. As such it is essential events are held to raise funds to allow the valuable work to continue.
The fifty-mile bike ride challenge is open to anyone who wishes to participate, there is no fee to join the ride but we do ask you to raise sponsorship that is then donated to our charity.
For more information please phone Angela on 07985 752 316 or email southmead_project@yahoo.co.uk.
---
August 8th, 2018 by Krysia Williams
This month's guest blog is written by Rob Reid, aka Yoga Dad, the father of two who runs yoga classes for cyclists in Bristol and Bath and uses the money made to support The Bristol Bike Project. Thanks Yoga Dad! 
When I first moved to Keynsham, Bristol, one of the things that really impressed me was the community spirit. That sense as though most people valued where they lived and looked out for one another. The town has changed a lot over the past few years, and it's not been without its challenges, but that sense of community spirit is still at its heart.
A good example is the yoga for cyclists classes I now run in Keynsham, Bristol. My local bike shop is the excellent 73 Degrees on the High St. Their move to the area has been like a breath of fresh air for the Bristol cycling community. When I initially spoke with 73 Degrees about yoga for cyclists in Bristol, they were really interested. The main reason being they run a bike fitting service, with them recommending to many of their customers they should do yoga to help lengthen tight areas such as hips and hamstrings.
It was a similar situation when speaking with the local Bristol cycling club. Salt and Sham (SAS) Collective Cycling has over 150 members, with many involved in a wide range of cycling disciplines around Bristol, Bath and beyond. Its main event each week is its club ride where around 100 riders follow a 45km loop around Chew Valley Lake. A number of their members had realised the benefits yoga was bringing to their cycling, There was a real appetite for yoga for cyclists classes being run in the local community.
We agreed it would be good to run yoga for cyclists classes in Keynsham, Bristol. What better venue than 73 Degrees bike shop itself. I ran a yoga for cyclists taster session in mid-July and will be doing likewise in mid-August. Both classes are full, with many of those attending doing yoga for the first time. The feedback I received from the first yoga for cyclists class was that they really enjoyed and they were interested in more classes. There was something very special about running a yoga for cyclists class in Bristol while surrounded by bikes hanging on the walls. You can see a short video of the class here.
The classes are being used as fundraisers for The Bristol Bike Project. BBP do amazing work for the Bristol cycling community. In particular, repairing and relocating unwanted bikes. This includes through its Earn-A-Bike scheme where they run bike maintenance workshops for marginalised groups in society, refurbishing bikes that they then keep. There's a strong sense of empowerment and self-reliance, so that the scheme is not just seen as a handout. This scheme functions as a bond between the owner and their bike.
I love being able to use yoga to give something back to the local community. Bringing together my passion for yoga and cycling through the yoga for cyclists classes has been like a match made in heaven. I am planning to start a yoga for cyclists programme for the Bristol and Bath cycling community very soon. If you are interested in attending yoga for cyclist classes in Bristol with Yogadad, please get in touch.
This blog was first published on https://yogadad.co.uk/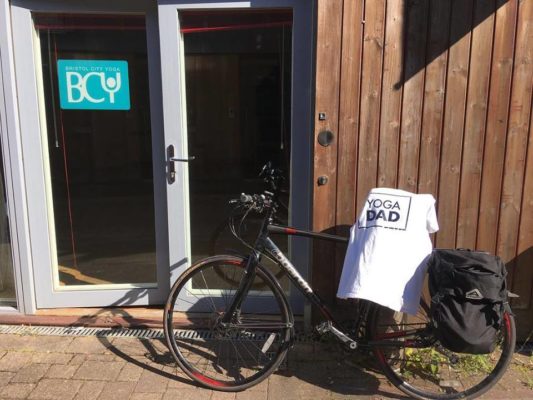 ---
August 7th, 2018 by Krysia Williams
Hayley Joyes from RedBull visited The Bristol Bike Project last month to find out how we're empowering women through bicycles. Here's what she wrote…
Read the story of the community project's Women's Night workshop, as told by people at the heart of it.
The Bristol Bike Project has been providing access to cycling workshops and upcycled bikes since 2008.
From its Stokes Croft base, at the vibrant Hamilton House warehouse complex, the Bike Project works across a number of schemes within Bristol. Each one uses cycling and bike maintenance as a conduit for rehabilitation. There are group workshops that cater for those affected by social isolation and mental health issues, while their 'Freedom of Movement Scheme' offers women from marginalised and underprivileged backgrounds free bikes and training.
On Mondays in their workshop, the BPP run a Women's Night. It's an open forum where female bike mechanics come together to share skills and cycling knowledge with women and those who identify as women looking to fix and service their bikes. The concept is based around using knowledge to empower and encourage confidence and independence. As one drop-in, Anna, explains: "I've spent a lot of money going to bike shops and then got very disillusioned. I didn't realise there was other stuff going on. I like the idea of women helping women. It's nice."
Meet some more of the people behind the BBP's Women's Night…
Joey, Totterdown
"I'm a coordinator and volunteer at the Bristol Bike Project – I've been part of it for a year. I work three days as a structural engineer and two days-a-week as a part time as a bike mechanic.
"I came here to do the two-day intensive maintenance course because I bought a bike that was in a bad state. I was tired of being patronised at bike shops and wanted to learn to do it myself. When I did the course here I absolutely loved it and wanted to learn more.
"Monday night is women-only and I love it. I guess it's the atmosphere and the community. I have become really good friends with these girls and – I know it sounds cheesy, but – it's completely changed my outlook on Bristol."
Anna, Bristol
"I have been in Bristol for three years now. At the moment I'm not working and I'm in drug and alcohol recovery. Cycling has completely changed my world. I came into recovery and I didn't know Bristol at all. I was riding around on buses and I thought 'this is ridiculous'. Cycling has given me confidence and a sense of freedom and independence. I love my bike.
"I found out about the Bristol Bike Project through word of mouth and other people who have been part of the project. It's affordable and I intend on learning additional skills."
Karen, Westbury Park
"I'm a volunteer and I've been coming here for two years. I find the Women's Night team are very kind and they explain things and they won't let you go away with your bike not safe. I just find it a really nice atmosphere. As one of the volunteers, I'm one of the older ones, but it's quite nice to have another group of people who are pretty much my daughter's age and see the world from their point of view.
"My daughters both live abroad and I don't see them as often as I would like. It's not just the Monday night; it's the mechanics of everyday life."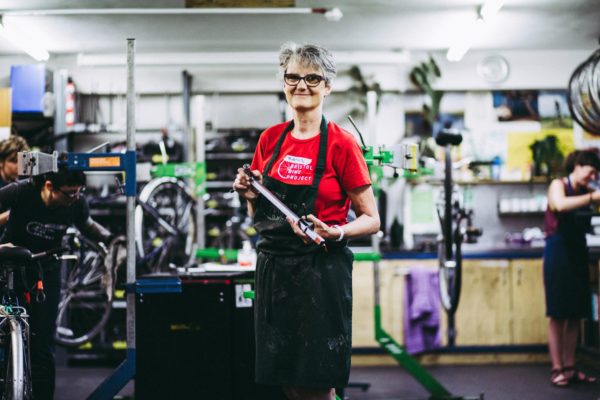 Roberta, Bristol
"It's my first time here. I had a few issues with my bike and I've recently moved to Bristol. In my experience [of] going into a bike shop, I always feel quite intimidated and judged on not knowing how to do certain things. Sometimes I feel like a bit of an idiot, even though, if I put my mind to it and tried to work it out, I'm sure I could.
"I love cycling. I see it as a really good way to deal with anxiety. If I get on my bike I feel immediately better and calm. Having that cycle in the morning makes me feel ready for the day. I think there is a nice community around cycling and it's good for the environment and on a personal level it just makes me feel better."
Seonaid, Bristol
"I'm a coordinator at Women's Night and I assist with the maintenance courses here at the Bristol Bike Project. I've been here over two years now. I love the way it's run here as a cooperative; they value everyone's opinions and most other places you wouldn't get that.
"Bike mechanics was something I wanted to learn and I came to one of the Women's Nights to fix my bike, everyone was really nice so I came back. A lot of bike places you go to it's completely unaffordable, very shiny and lycra-y. It widens the world of cycling a lot."
This article was originally published on RedBull. All photo credits Tom Ham
---
August 1st, 2018 by Krysia Williams
This month's maintenance tip features on BBC Radio Bristol! Our fabulous shop mechanic Adam gives the lowdown on how to keep your bike rolling smoothly between services and protected from the rain. Follow this link and fast forward to 1 hour 25 mins!