---
April 19th, 2018 by Krysia Williams
Want to score yourself a free ticket to Bestival 2018 while raising money for our Earn-a-Bike programme, all from the comfort of your bicycle seat? Our good friends at the Door & Rivet Café have teamed up with Rob da Bank's famous festival to offer an awesome two-day supported bike ride to the festival for 30 seasoned Bristol cyclists who want to reduce their travel emissions to the festival.
The only requirements are a good level of fitness, advanced cycling experience and a road-worthy bike – which you can pick up from our shop in Stokes Croft. Pop to check out the fully serviced second-hand bikes we have for sale!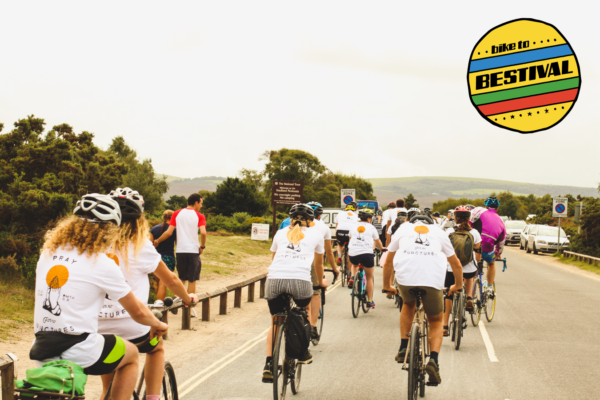 'We're always going to love people who really put the effort in to make it to the party, so Bike to Bestival gets us all very excited,' says festival founder Rob da Bank. 'This pro-rider Bristol leg is raising money for two brilliant charities, so there's plenty of opportunity for all you adventurous Bestival types. So, bust out your spandex and saddle up to support some great causes on your way to our Jurassic Coast knees-up.'
If the opportunity to take part in this beautiful ride wasn't enough, the 30 successful entrants will also receive special reserved camping along with a ticket for the festival on 2-5th August, as well as a Bike to Bestival t-shirt and support from the Bestival team to set up and promote their fundraising pages.
The campaign follows last year's successful Bournemouth to Bestival cycle-ride, with the West Country chapter now being organised by the wonderful Door & Rivet Café in Stokes Croft.
This year, the Bournemouth ride will be raising money for the mental health charity CALM, while all the money raised from the Bristol ride will go to The Bristol Bike Project.
James Lucas, co-founder of The Bristol Bike Project says 'It's fantastic to see Bestival taking the initiative to organise a ride to Bestival, getting more people on the saddle and reducing their environmental impact. We're stoked that our good friends at Door & Rivet are organising the Bristol ride, and that the money raised will support our Earn-a-Bike programme helping marginalised people from across our city get out on two wheels.'
Simon Gunning, CEO of CALM, says the ride will help to highlight the benefits cycling and general fitness have on those struggling with mental health issues. 'We're wishing all riders well and look forward to championing CALM at Bestival 2018. Events like this allow CALM to raise awareness of the fact that suicide is the single biggest killer of men under 45 in the UK. Cycling is of huge benefit to general wellbeing on top of physical fitness and can be especially powerful when groups come together to take on a collective challenge.'
The ride from Bristol will begin on Wednesday 1 August with a stopover at a campsite en route, arriving at the festival on Thursday 2 August. Bestival marshals will accompany riders, but it is a tough route and only experienced applicants can be considered. Participants for each ride will be required to pay a £50 administration fee and raise a minimum of £200 for The Bristol Bike Project.
Registration closes on 25th April and successful applicants will be notified by 1st May. Interested riders can make their applications here or head to bestival.net for more information.
Cyclist Kiall Douglas Wheatley of Door & Rivet Café in Stokes Croft is a previous Bristol Bike Project volunteer who will be helping to raise money for the project.
---
March 30th, 2018 by Krysia Williams
This month our fab volunteer Tom presents his top spring time maintenance tip: how to clean your trusty steed! Keep it looking happy and shiny, and prevent wear saving you money too!
---
March 30th, 2018 by Krysia Williams
This month's guest blog comes from freelance writer and editor, Jane East, who writes about the benefits of bicycles to our mental health. At The Bristol Bike Project, we have witnessed first hand how cycling and bicycle mechanics can improve people's mental and emotional well-being. This is true for all the workshops we run, but particularly our Social Cycle workshop. For the past two years the Social Cycle has been running on Friday mornings at The Bristol Bike Project. Free to participants it aims to provide a safe space where people can socialise with others interested in bicycles and cycling, aiming to avoid many of the problems associated with social isolation as detailed in Jane's blog:
3 Mental Health Benefits Of Joining Cycling-Themed Activities
Many Bristolians are familiar with the physical and financial benefits of cycling, but did you know that it can also contribute to your mental health? Apart from adding to longevity and saving on commuting costs, cycling can also help improve a person's mental and emotional well-being, especially if you join a cycling workshop, group, or participate in cycling programmes. According to research, being in a group and sharing a connection with group members can help lessen the risks of developing mental health problems. Moreover, group activities that promote a healthy and active lifestyle can influence you to make better choices in life. Here's how joining cycling-themed activities can benefit your mental health.
It can improve brain function
Having conversations and interacting with other cycling enthusiasts can help to improve brain function and memory. Interacting, talking, listening, and paying attention are common tasks that humans do, and doing so activates and improves the brain's function. Moreover, having regular face to face conversations improves communication and language skills. As you connect with other like-minded people, you can experience being in a supportive and warm environment that you may not find when joining certain online or social media groups.
It prevents social isolation
Fixing bikes, joining a charity cycling marathon or going on monthly bike rides with other people can help to prevent social isolation. Loneliness or social isolation has been tied to certain health problems such as high blood pressure and inflammation of the body. It can also lead to learning and memory problems even among young people. Studies have also shown that a person who is socially isolated experiences negative changes in his or her immune system.
It allows you to learn new things
If you're a cycling novice, one of the best ways to learn about your new hobby is to join a cycling group. Not only do you get to learn how to fix or put together a bike, but you also get to know the best routes for cycling, tips for a safer and more comfortable ride, and you get to problem solve with other people who share the same passion. Learning something new keeps the brain cells active and may keep cognitive disorders such as Alzheimer's or dementia at bay. Moreover, it gives you something to look forward to as you grow as a person and improve yourself for the better.
This year, try joining cycling-themed activities or groups to improve your mental health. Connecting with like-minded people enables you to live a happier life while staying active and social.
Picture above: some of the Social Cycle gang!
What people say about the Social Cycle programme
"I enjoy coming in, having a laugh and a joke, as well as learning new things, stripping down and putting together bikes. I'd never worked on bikes before coming here, but I like getting my hands dirty. Since starting this, I've gained an NVQ in cycle mechanics which I really enjoyed. It's become a hobby. After earning my bike on the two week course, I was glad Luke and Chris asked me to come back and volunteer.
I like that it's flexible, and if I can't make it, they understand, there's no pressure like you'd get in a job. If we have any problems, we talk about them and solve them together." George
---
March 9th, 2018 by Krysia Williams
This month our Fix-a-Bike coordinator, Big Al, demonstrates how to lock your bike securely to make sure it doesn't get nicked (or worse…!)
---
February 16th, 2018 by Krysia Williams
We're proud to say we've made our way on to Bristol's Happy List!
Happy Lists were born out of a need to provide an antidote to the rich/celebrity lists which worship at the shrine of the wealthy, the bonus-getters, and the tax avoiders.  In 2008 David Randall decided to create a national Happy List for the Independent on Sunday which would honour a different set of values. As a direct riposte to The Times Rich List, he named  people who, without thought of personal gain or recognition, do so much to make their communities better adjusted places to live, making their cities and thus the country a better and happier place.
Our fabulous founders, James Lucas and Colin Fan, have been named as part of Bristol's Happy List for 2017 for their work setting up the wonderful BBP. Having a form of affordable transport makes a massive difference both to well-being and opportunity for those marginalised at the edges of society and their vision has inspired hundreds to help out. Over the years a huge number of volunteers have re-built a vast number of unwanted bikes, each one, improving a life.
So here's to our volunteers, members and supporters – all of whom contribute to the happiness we collectively help spread across Bristol, two wheels at a time!
---
February 8th, 2018 by Krysia Williams
This month's guest blog comes from freelance writer and editor, Jane East, who writes with some top tips for selecting your perfect ride! Even when you've been cycling for years, like Jane, choosing the right bike isn't always easy. There are so many different styles, options, and sizes. Even asking advice in a specialist shop can leave you feeling more confused than when you started! Jane's bike review site devised a fun quiz to help people focus on what they need and want. Read on for her top tips…
What Your Bike Says About You
The UK is developing its cycling-friendly system to be inclusive of all types of people, and Bristol is one of the best locations leading the way, having been named one of the UK's top 5 cycle-friendly cities. Fast-moving roads, often suitable only for experienced and confident cyclists, are quickly becoming a second option. With the mental and physical benefits of cycling well-established, it's a hobby anyone can benefit from. What you might want to consider is what you want your bike to do for you.
Restoring and continually maintaining a bike is an enriching experience, but don't think you aren't able to tune your bike to your exact needs. Here are the key features for common types of cyclists.
Everyday Cyclists
The reasons people cycle are varied, but most are looking to commute. Especially for disadvantaged people without access to public transport or a car, the humble bicycle offers opportunity and the ability to exercise those aforementioned mental and physical aspects. Cycling has remarkable inclusivity, too, with 25% of Cambridge's disabled people cycling and similar levels taking to Bristol's roads. Given the sheer breadth of people looking to establish their must-have features on a bike, it's helpful to know exactly what goes into the 'everyday' bicycle. Generally speaking, you want easily shifted gears that have the ability to traverse fall rises and falls; and effective brakes to deal with adverse circumstances.
Off-roaders
Off-roading is another animal altogether when it comes to cycling. The sleek roads of cities (potholes notwithstanding) and towns give way to rugged paths that require concentration, skill and a bit of physicality. Technology has started to step in, however. Electric bikes, previously powered by the pedal-pushing feeding into a battery-like motor, made for casual, sweat-less road travel. Basically, geared towards work commuters. Now, electric mountain bikes are being developed and allow you to use that stored power to make climbs. This allows more energy to be conserved for balancing in tougher tracks.
This technology is certainly compatible with refurbished rigs, too, with the right know-how.
Racing
Finally, a nod to the racers. Now, common parlance would have you believe that ultra-light frames, a lack of brakes and one-gear fixies are best for pure speed. Essentially, stripping your bike of non-aerodynamic or weighty fixtures, and even resorting to wooden bike frames. Whilst this can be true for the fastest experience, be wary of removing brakes entirely – and also of the legality of any adjustments you make to your bike.
Bikes can complete any number of different functions for the owner. The adaptability and availability of mechanics means you can twist any design or refurbished bike into a solid bike for your requirements.
---
January 18th, 2018 by Krysia Williams
2017 was an eventful year for women at The Bristol Bike Project. In June, coordinators and volunteers from our ever popular Women & Trans* Night welcomed folks from Oxford's Broken Spoke Co-op, who rode all the way here! We shared food, skills and ideas about how we run these sessions. We were inspired by hearing about Beryl's Night, the monthly session they run for women and trans folk which was the starting point for Broken Spoke, and to see first-hand what goes on at Beryl's Night several of us travelled to Oxford in September. These relationships and exchanges with other co-ops are really valuable to us a project because they top up our enthusiasm for the work we do and allow us to reflect on and discuss the way we do things. And of course, to plan more trips to see our rad pals!
Also in September we organised two film events in our Community workshop, using the awesome projector and screen recently installed by one of our coordinators. The first event was Groundswell: Bicycle Culture Rising, which was a series of thought-provoking short documentaries about grassroots bike activism made by Elly Blue and Joe Biel, publishers, writers and filmmakers from Portland, Oregon. In between films Elly and Joe asked the audience questions which elicited moving personal stories and interesting reflections on how bicycling and bike activism are different here in the U.S., and left us all inspired by what we'd seen.
The second screening was part of the Bristol Cycle Festival. Ovarian Psychos is a documentary about a Los Angeles all-female bike gang who are claiming their space on the streets and fighting patriarchy as they go. After the film there was talk about forming a feminist bike gang in Bristol but we need good name: any ideas? Because the Cycle Festival was such a busy week we know lots of folks who wanted to see the film weren't able to make it, so we're hoping to arrange another screening in the new year. Watch this space.
Finally, in November Jenni Gwiazdowski, founder of London Bike Kitchen, came to give a talk to a packed crowd before one of our Women&Trans* Nights. Jenni has just written a book called How to Build a Bike (available in the BBP shop!) and spoke about how to get more girls and women into STEM subjects: science, technology, engineering and maths (bike mechanics is included here). She rightly pointed out that do so we need three things:
role models
opportunities
smash patriarchy
Can you spot a recurring theme? We're keen carry on holding more events like these and keep up the dialogue with other bike co-ops and workshops, and it's awesome that much of the energy for this is coming from women at the Project.
If you have an idea for an event you'd like to run at the Project, please let us know!
Contact: hello@thebristolbikeproject.org
---
January 16th, 2018 by Krysia Williams
This month's guest blog comes from Danielle Lawson, part of the 101adventurers.com project which aims to help people build the courage they need to live a more adventurous life. By sharing the exploits of British adventurers and a selection of UK adventures to try, the project hopes to inspire the everyday adventurer in all of us.
Forget the Tour de France, there are far more awe-inspiring long distance rides in the UK than you may have realised. It's all right here in Britain, from sweeping along rugged cliffs by the coast to exploring the ancient mysteries of castles, snow-capped mountains and legendary lochs. You don't have to travel far to find an adventure on your bike! Here are the top picks for a long distance challenge.
1) The Tissington Trail in Derbyshire
Running through open limestone country between Ashbourne and Parsley Hay, this route was once a railway line but has since become part of the National Cycle Network (NCN). It's ideal for beginners, since trains, just like recent cycling converts, can't manage steep hills, so miles of flat countryside is guaranteed. The trail then connects with the High Peak Trail and other Peak District routes to ease beginners into their first long distance route. Stop whenever you need to!
2) Fakenham to Harwich
Another winner for those who don't get too excited over hills, is this NCN route through East Anglia, which is delightfully flat for most of its 163 miles. You'll have a tour of some of the most historic spots in England, so build in a little sightseeing time before you slide up to the Essex Coast.
3) Lon Las Cymru
254-miles, from either Cardiff or Chepstow over to Holyhead, is another ideal route for taking your first steps into long distance cycling. You start out with gentler gradients and can build up to the tougher parts over multiple days. It'll all be worth it for the route's breathtaking views over Snowdonia and the luxurious Coed-y-Brenin forest.
4) Coasts and Castles South
The right NCN route for history buffs, this one stretches an incredible 200 miles from Newcastle to Edinburgh, via a host of castles that you'll recognise from films. The route is mostly by road, with a few gentle climbs, but nothing the average thigh muscle can't handle, so this sits around moderate difficulty.
5) The West Country Way
An unbeatable slice of the West Country is available here, taking in the Bristol & Bath Railway Path, with the option to finish in whichever of those cities tempts you most. Or, alternatively, wherever you run out of steam and need to re-fuel with a taste of something local. Along the way, you'll spot the Mendips and some of the wild scenery that makes up Exmoor.
6) Devon Coast to Coast cycle route
You'll love this one if cars drive you crazy en-route, because most of it is on the remains of past railways, and cars can't travel near you. You'll have the chance to roll all the way from beachy sections of North Devon at Ilfracombe to where you hit sea once again, at Plymouth.
7) The Caledonia Way
Scotland doesn't disappoint with this much-loved, legendary route. Sitting firmly in the more challenging side of the scale, you'll be tackling much of the Scottish West Coast and you'll enjoy tantalising brushes with Ben Nevis and Loch Ness. With quiet roads and country tow-paths making up the route, are you ready to take it on?
You can find full details of all these routes, along with maps, tips and everything you need to get started on the National Cycle Network. And, talking of starting, with an average of 60 hours of free time in the typical weekend for adventure, what are you waiting for? See you on two wheels!
---
January 11th, 2018 by Krysia Williams
January's Monthly Maintenance tip is all about sorting out your saddle and comes from our shop mechanic Grainne, who drew this awesome storyboard to illustrate!
---
December 21st, 2017 by Krysia Williams
This month's guest blog comes from blogger and photographer Richard Anders, whose cycle 365 project aims to create the big picture of the cycling community across the UK from a diversity of photographic images.
Last week, Richard stopped off at The Bristol Bike Project for a visit. Here's what he had to say…
Now in its 9th year, The Bristol Bike Project was conceived as a community bike project which recognised the importance of disadvantaged and marginalised people to be independently mobile in The City. Many of these people are isolated due to the cost of car ownership and (even) public transport being unaffordable.
During those 9 years, The Project has become a Community Interest Company and has grown into generous sized workshops plus sales space, while its portfolio of offerings has expanded to cover the many pressing social and wellbeing needs of The Community. They partner with over 50 organisations in and around Bristol in order to ensure their services are available to those whose need is greatest. Bristol Bike Project also offers other opportunities to get involved through volunteering, a weekly bike kitchen, a women's night and various maintenance courses.
The Bike Kitchen occupies a large part of the BBP floor space. It is a drop-in workshop, for members of the public to use the fully equipped workshop which also offers a wide range of new and used parts for sale. There is an experienced mechanic on hand to lend limited advice and guidance. Those needing more learning can enrol on the various Saturday Maintenance Courses.
The weekly women's night invites women to bring their bike to fix, clean or just do a check over. A sharing of knowledge and skills in a friendly, informal atmosphere with volunteers on hand to assist with learning and fixing, is what it's about. To be able to fix your own bike and not to have to rely on favours or a relatively expensive bike shop is empowering and provides encouragement for women to take up cycling.
Last herein, but the most important part of The Bristol Bike Project, is 'Earn a Bike' scheme. This comprises three, hour long, one-to-one workshop sessions, working with marginalised people from within the community who need affordable and sustainable transport for social and employment mobility. Individuals work with a mechanic to refurbish a bike, donated to them by The Bristol Bike Project, learning basic mechanical skills in the process. Rather than the bike being a handout, the scheme builds empowerment and self-reliance, and fosters a bond between the recipient and their bicycle.
Since 2009, over 1500 bikes have been earned from the project in this way. Thereafter, Bike Earner owners can keep things running smoothly by dropping in at a weekly Fix-a-Bike session, which further encourages a long term relationship with their bike. Bike Earners are typically referred to The Earn a Bike Scheme by one of the 'people in need' organisations in and around Bristol but individuals can also refer themselves.
Thanks to Krysia at BBP who hosted me during my visit. Enthusiastic and proud of The Project's social and community achievements, she was also delighted to mention how several of the volunteer mechanics progress to become members of The Project's 'Co-operative' giving them a voice in the shaping of BBP's future. I stayed longer than I had allowed for, was plied with tea and mince pie, and spent money in support of The Project on a good looking Project T Shirt, a casquette, and a copy of the final ever edition of The Boneshaker (book-like) Magazine, produced by BBP co founder James who writes in the magazine's final editorial:
"After more than 8 years and 1500 pages of freedom, friendship and adventure, of politics and poetry, ink and dreams, we're ready to move onto something new……The Boneshaker name, its intentions and the wonderful community that's grown around it will live on. Thank you to everyone who's been involved, sharing stories and pictures, riding with us, inspiring us, sharing our enthusiasm for the mystic beauty of life on two wheels."
Thankfully, with refurbished bikes selling like hot mince pies, continued donations of bikes and funds, and my purchases, The Bristol Bike Project surely has many more years of good work to come.