BBP fundraising champion, George Shaw, has just returned from an epic trip across France, 1100km in 7 days from Calais to Mont Ventoux, then up the big mountain, and Alpe d'Huez a week later. As well as his awesome adventuring, George smashed his fundraising target, raising a whopping £585 for our Earn-a-Bike programmes, which support people from across Bristol get out on two wheels. We asked him about the reasons for the trip and his involvement with Bristol Bike Project. Here's what he had to say…
"I first learnt about BBP 7 or 8 years ago, when I wanted to get rid of a couple of old bikes in the garage. A friend, who'd worked for years with refugee and housing charities in Bristol, knew of BBP and suggested that I took them there.
When I turned up with the bikes, BBP immediately reminded me of 30-40 years ago, when I lived in Bristol. In those years I worked in a radical bookshop near the top of Stokes Croft, and then a print cooperative, and was also involved in a number of activist groups. BBP had the same energy and spirit, and also the desire to turn words into meaningful action. So it was almost like returning home. Since then I've been donating stuff most years, but I thought it was about time that I did a bit more.
I'd been thinking about doing a ride across France for a couple of years and, as I was about to turn 65, it seemed like the time to actually do it. Friends had recently completed the challenge of cycling up all three routes of Mont Ventoux in one day and it occurred to me that this would be a good place to end the trip. So over the winter months my plan fell into place.
The ride itself went very smoothly, Fortunately I had no problems physically (except for having to haul myself up a couple of mountains at the end) and no problems mechanically – I didn't even pump my tyres up over the 7 days! I was also fortunate that the worst of the weather was the first day, some early rain and then heavy showers, all with a massive headwind. But this kind of toughened me up for the task ahead.
After that I soon settled into a daily rhythm. There's something very calming about cycling long distances. Just packing up each morning into a couple of small panniers and setting off thinking, essentially, that I could go anywhere and needed very little. It's a massive lie, of course – I was still dependent on my phone, the route, my B&B bookings and my credit card. But it still feels quite liberating at the time, riding steadily through ever-changing countryside and architecture – although Northern France does have a lot of potatoes and cereal crops. It's amazing how the kms add up over just a few days, and it was almost a disappointment reaching Bedoin, despite the overall sense of achievement.
The climb of Ventoux was long and hard as expected, and was accompanied by several thousand Belgians also on a charity event! I could probably have managed a second ascent, but I was pretty tired and the last few km had been a struggle. So I hope to return to try to do all three ascents in the future. And there might be plans for another epic ride in a couple of years time as well!"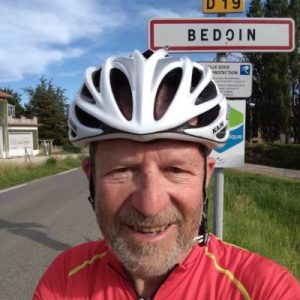 You can check out the blow by blow account of George's adventure here! Fancy yourself as the next BBP fundraising champion? Get in touch to share your ideas, and we'll support you to turn your awesome adventure into a powerful fundraising machine!