Bristol cycling enthusiasts, Zoe and Tim, are on an adventure to Istanbul, raising money for The Bristol Bike Project which helps get refugees and asylum-seekers out on two wheels!
Last month, Zoe and Tim set off from Bristol on their epic cycling adventure through Europe to the closest border of Asia – Istanbul. They aim to reach their destination in 10 weeks, camping along the way as much as possible.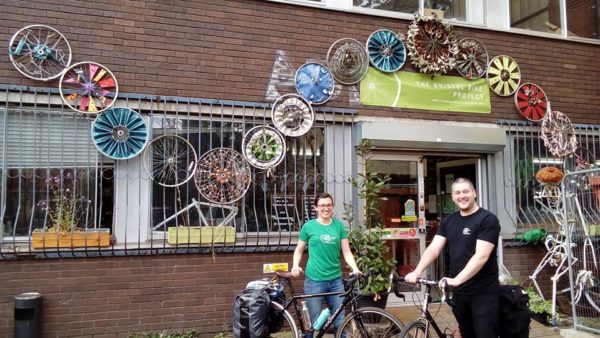 'This has been our dream for such a long time' said Zoe Lawrence, 'in fact, we were never quite sure we'd actually set off… but with some luck, rash decisions and spreadsheet planning we made it happen!'
A large portion of their cycling route follows a similar trail to that taken by refugees crossing Europe. Having heard about the work The Bristol Bike Project does to get refugees and asylum-seekers out on two wheels, Zoe and Tim decided this would be a great opportunity to raise some money for the community project.
The Bristol Bike Project takes donations of unwanted bikes, repairs and rehomes them with asylum-seekers and other marginalised people within our community through their Earn-a-Bike programmes.
'Asylum-seekers receive very little support when they arrive in this country', said Krysia, coordinator at The Bristol Bike Project, 'they are not allowed to work and have to rely on state support – just £5 a day to live on. Having a means of affordable and sustainable transport is a lifeline for them.'
'We're delighted and humbled that Zoe and Tim have chosen to dedicate their ride to raising money for our Earn-a-Bike programmes. Our project is driven by volunteers, but it costs money to run the workshops and give the donated bikes the overhaul they need with new parts and accessories to ensure they are safe to ride.'
Zoe and Tim are making great progress with their cycling – with the Greek border in sight they have just 11 days left and just under 300 miles to go to Istanbul. But they need your help to reach their fundraising target!
Krysia continued, 'We would encourage anyone who can spare a few pounds to head to their fundraising page and donate. Let's make sure all their hard work and pedal power is justly rewarded by helping them smash their fundraising target!'
Can you give Zoe and Tim a boost for the final leg of their journey? The Bristol Bike Project are offering one of their illustrious Bikes Without Barriers t-shirts to the most generous donor and the donor who takes them over their £500 target!