This piece was written and photographed by Alex Turner and published in Brooks England
As you walk down the Gloucester Road in the Stokes Croft area of Bristol, you'd be forgiven for thinking you were a long way away from a space as calm and peaceful as the Bristol Bike Project. The high street is a raucous cavalcade of independent shops – a melting pot of the many communities that make Stokes Croft such a lively and engaging place to be. Walk away from the busy road, round the back of the imposing Hamilton House and you will be greeted with a small green space that immediately feels welcoming. This is the courtyard of the Bristol Bike Project, a social enterprise that focuses on empowering disadvantaged and marginalised people within Bristol. By repairing and rehoming unused bikes, the Bristol Bike Project allows people access to the independence and freedoms afforded by access to a working bicycle.
These are freedoms that even James Lucas, cofounder of the Bike Project didn't fully understand when he first started the project almost ten years ago. He says it was while volunteering at Bristol Refugee Rights that he first identified "a really clear need for people to have access to affordable transport that wasn't a car or an expensive bus pass", and during his time there he realised "people were walking 2-3 hours a day to get to the Welcome Centre." After returning from a cycling trip in Scandinavia with Colin, the project's other founder, the duo began putting posters up requesting unused bikes. "The bikes just came flooding in", James tells me. "It's a huge resource in Bristol – unwanted, unused bikes."
Though the bikes are still gathered in much the same way, wheeled in off the street by people no longer using them, the project's reach, scope and influence has expanded hugely since its modest beginnings. The project now caters for people referred to them by over 50 organisations in Bristol. In doing so, they help refugees, victims of trafficking and domestic abuse, recovering addicts, those suffering from mental illness and other groups to get mobile. This is achieved through a programme of workshops that allows people to 'earn a bike' – after learning some mechanical skills and basic bike maintenance, they are able to cycle out of the door on their own bike.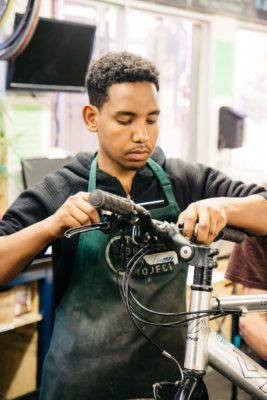 Acquisition of skills is as central to the project as the bikes themselves are. In the very early days of the project, James says they simply handed bikes out to people. They very quickly decided to take a different tack, however. "Actually, we want people to come along, feel empowered and feel part of the process – the process is really important".
In learning these skills, people are liberated even further than they are by just being able to access the bike – travelling independently and autonomously by maintaining their own bike and fixing routine problems on their own. James recalls one man who came to the project that morning, and relies on his bike to get to college. "Suddenly he has a puncture and it's game over for him", he says. "Rather than just repairing the puncture, one of the volunteers talked him through how to do it himself, so that when it happens again, he can feel like 'oh right, this is fine, I've got this in hand', without losing valuable studying time."
For experienced cyclists, we may feel like we are well-versed in the benefits of cycling regularly, be those benefits environmental, physical or spiritual. However, few of us who ride for leisure or to ease an otherwise annoying commute may appreciate the extent to which a bike can change your life, particularly when your only other alternative is conducting your entire life on foot. Being able to cycle to school, doctor's appointments, work or simply to see family is hugely beneficial to marginalised people in need of support networks – and bike travel has changed people's lives in ways even James and other volunteers hadn't expected.
I am told about Sean, a former addict who is now an active member of the project and who in part credits the bike supplied to him by the project as a factor in his recovery. "Having a bicycle meant he could sail past people he would otherwise engage with that could be part of the reason he remained an addict, dealers or other users. He could actually get past and not engage with that."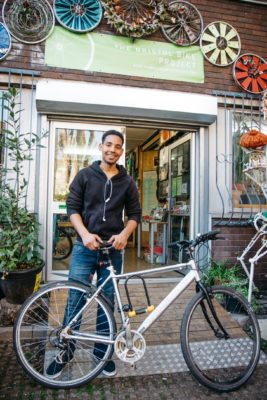 Despite the thrum of life that whirls through its doors at the busiest times of day, the place retains an atmosphere of serenity and purpose. Having spent an hour chatting with James about the values and ethos of the project, the sense of calm and cooperation that greets you on entry is far easier to explain. It's inspiring to see the good that can be done for the wider community through bicycles and bike travel. Though, as James says, the aims of the project have always been more ambitious and inclusive than giving people bikes and sending them on their way, "communities becoming more resilient can only happen if people meet each other and are in direct contact… here it just happens to be around bikes." On a hot Thursday afternoon in this busy corner of Bristol, the latest batch of new riders take their wheels for a spin. As handshakes and broad smiles are exchanged between the volunteers and the new beneficiaries, you can't help but feel that something special is happening.