This month's guest blog comes from freelance writer and editor, Jane East, who writes about the benefits of bicycles to our mental health. At The Bristol Bike Project, we have witnessed first hand how cycling and bicycle mechanics can improve people's mental and emotional well-being. This is true for all the workshops we run, but particularly our Social Cycle workshop. For the past two years the Social Cycle has been running on Friday mornings at The Bristol Bike Project. Free to participants it aims to provide a safe space where people can socialise with others interested in bicycles and cycling, aiming to avoid many of the problems associated with social isolation as detailed in Jane's blog:
3 Mental Health Benefits Of Joining Cycling-Themed Activities
Many Bristolians are familiar with the physical and financial benefits of cycling, but did you know that it can also contribute to your mental health? Apart from adding to longevity and saving on commuting costs, cycling can also help improve a person's mental and emotional well-being, especially if you join a cycling workshop, group, or participate in cycling programmes. According to research, being in a group and sharing a connection with group members can help lessen the risks of developing mental health problems. Moreover, group activities that promote a healthy and active lifestyle can influence you to make better choices in life. Here's how joining cycling-themed activities can benefit your mental health.
It can improve brain function
Having conversations and interacting with other cycling enthusiasts can help to improve brain function and memory. Interacting, talking, listening, and paying attention are common tasks that humans do, and doing so activates and improves the brain's function. Moreover, having regular face to face conversations improves communication and language skills. As you connect with other like-minded people, you can experience being in a supportive and warm environment that you may not find when joining certain online or social media groups.
It prevents social isolation
Fixing bikes, joining a charity cycling marathon or going on monthly bike rides with other people can help to prevent social isolation. Loneliness or social isolation has been tied to certain health problems such as high blood pressure and inflammation of the body. It can also lead to learning and memory problems even among young people. Studies have also shown that a person who is socially isolated experiences negative changes in his or her immune system.
It allows you to learn new things
If you're a cycling novice, one of the best ways to learn about your new hobby is to join a cycling group. Not only do you get to learn how to fix or put together a bike, but you also get to know the best routes for cycling, tips for a safer and more comfortable ride, and you get to problem solve with other people who share the same passion. Learning something new keeps the brain cells active and may keep cognitive disorders such as Alzheimer's or dementia at bay. Moreover, it gives you something to look forward to as you grow as a person and improve yourself for the better.
This year, try joining cycling-themed activities or groups to improve your mental health. Connecting with like-minded people enables you to live a happier life while staying active and social.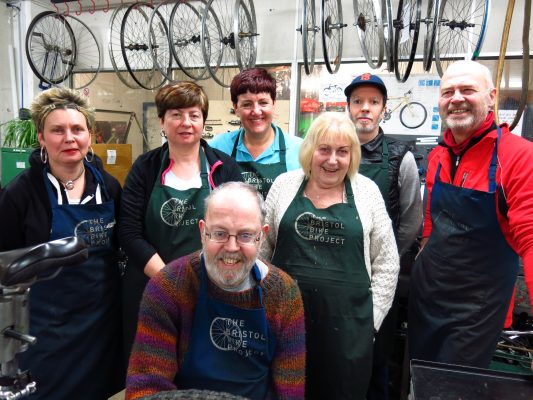 Picture above: some of the Social Cycle gang!
What people say about the Social Cycle programme
"I enjoy coming in, having a laugh and a joke, as well as learning new things, stripping down and putting together bikes. I'd never worked on bikes before coming here, but I like getting my hands dirty. Since starting this, I've gained an NVQ in cycle mechanics which I really enjoyed. It's become a hobby. After earning my bike on the two week course, I was glad Luke and Chris asked me to come back and volunteer.
I like that it's flexible, and if I can't make it, they understand, there's no pressure like you'd get in a job. If we have any problems, we talk about them and solve them together." George