'Tis the season to be jolly and we're hoping to add some sparkle to your Christmas shopping with some dazzling deals from our shop!
So don't bother with the high street. Save time and money by getting all your presents from us. Your cycling pals will think you're a hero, and the money you spend will support our work getting more people out on two wheels. It's a win-win-win situation!
Here's what deals we've got in store…
BBP merch bundle – £24 (usually £30)
One of our illustrious BBP tees*, BBP cycling cap and a copy of the latest (and final…*sob*!) Boneshaker magazine (mechanic not included!).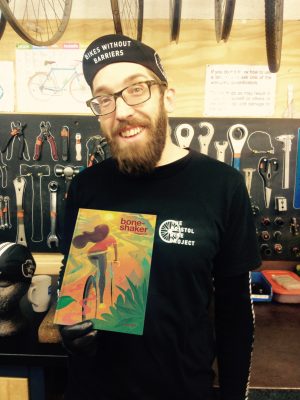 *Tees come in women's slim fit or universal: S, M, L & XL
Basic bicycle maintenance bundle – £23 (usually £29)
For all the essential on-the-go repairs: Lezyne Rap-6 multitool, Truflo hand pump, puncture repair kit and tyre levers.
Advanced bicycle maintenance bundle – £43 (usually £54)
All you need to keep your ride running smoothly: Lezyne Rap-14 multitool, Lezyne hand pump, puncture repair kit and tyre levers.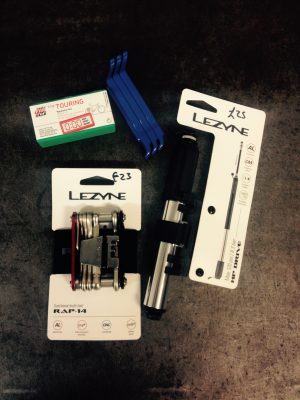 Wheeelie great gifts with bells on! 

?
As well as those top deals, here's some more great gift ideas from The Bristol Bike Project shop.
Bicycle maintenance course vouchers:£30 – £60
What greater present than the gift of knowledge! Learn great skills and save money by building self-sufficiency in bicycle mechanics. Afterwards, you can tell the lucky recipient to make use of our drop-in workshops to keep their bike on the road with their knew found skills.
We currently run two maintenance courses with tip top reviews! A Bicycle Basic Introductory Course and an Intensive Practical Course.
Ever bought your bicycle a Christmas present? No, didn't think so. And just think of the gift it gives to you every day with the joy of free, fast and fun travel! So why not give your bicycle a gift this Christmas by keeping it safe and sound with one of our lock and light bundles?
The essential set offers a sturdy Onguard lock and ETC lights for just £29 (usually £33)
Or show your trusty steed just how much you love it and invest in one of our advanced bundles with a Kryptonite lock and Lezyne USB rechargeable lights (this one's good for the planet too!) for just £66 (usually £73)
How to Build a Bike, by Jenni Gwiazdowski – NOT YET AVAILABLE IN STORE: TAKING PRE-ORDERS.
Jenni is the founder of the London Bike Kitchen, an education space that encourages people to fix and build their own bikes. Her foray into book writing has seen her publish this brilliantly demystifying book – the complete guide to building your own ride! As a special treat this December, we're selling them for £12 (usually £15)!